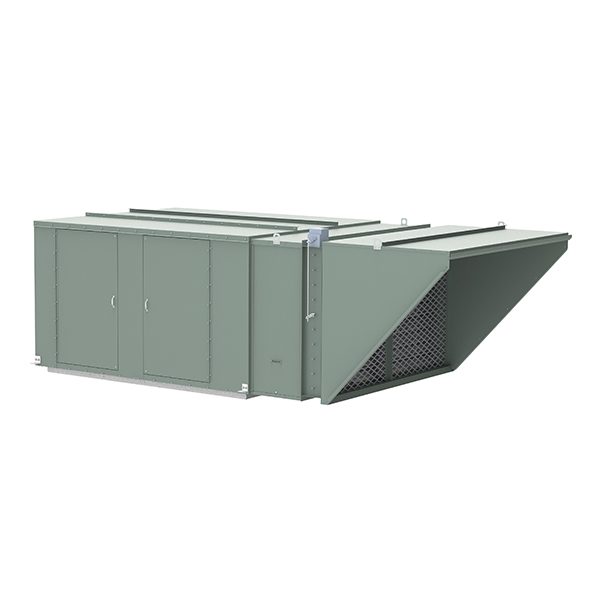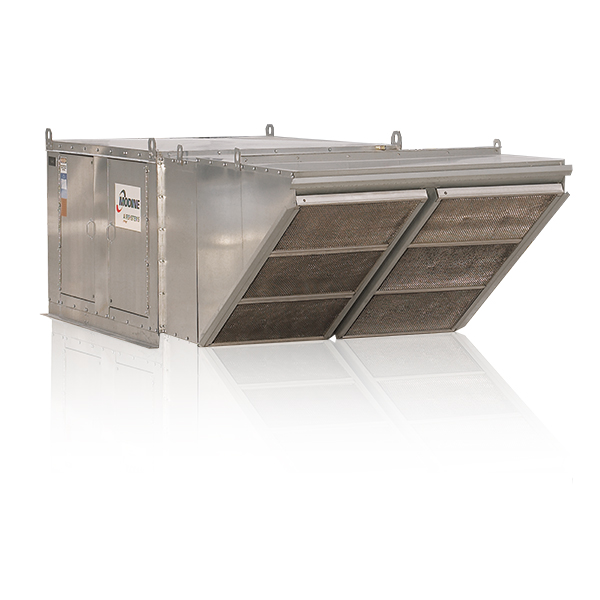 Direct-Fired Indoor/Outdoor Make-up Air (MDB/MRB)
Designed to provide an economical and efficient means of supplying tempered make-up air. All units allow indoor or outdoor mounting and have a 100% thermal efficiency.  100% Make-up Air System is heated directly by the gas flame, eliminating the need for a heat exchanger and associated efficiency losses of indirect-fired equipment.
Return Air Direct-Fired Systems can be used as combination make-up air and heating/ventilating units, requiring the capability of operating with recirculated air as well as make-up air.
100% thermal efficiency (92% sensible) results in lower fuel bills
Natural or propane gas manifolds are factory-assembled to provide flexible fuel options and reduce field-installation costs
Factory-wired electrical panel with numbered terminals significantly simplifies field wiring
100% factory flame-tested
Weatherproof roof with drip ledge protects from water being drawn into the unit from the roof
18-gauge galvanized steel casing provides high corrosion protection for long life
Adjustable drives through 10 HP simplify air balancing
Four access doors provide maximum access for easy adjustments and service
22:1 firing rate turndown for optimum temperature control
Units are third party certified by ETL
.
Model MDB
Input ratings up to 7,425,000 Btu/hr
Maximum airflow capability of 60,000 CFM
Model MRB
Input ratings up to 5,500,000 Btu/hr
Maximum airflow capability of 41,000 CFM
Maximum return air capability of 75%
A minimum 25% outside air must always be supplied to the building
Both MDB & MRB
Painted unit casing
Inlet hood, unpainted* with or without filters – field installed for model sizes 125 and above
Insulated V-bank 2" filters section, unpainted* with permanent, throwaway, or Farr30/30 filters – field installed for model sized 125 and above and vertical units
Inlet damper, unpainted* – field installed for models sizes 125 and above and vertical units
Pillow block bearings – model sizes 110 and 118
Internal spring blower and motor vibration isolation – requires pillow block bearings
Extended grease lines – requires pillow block bearings
Dead front non-fused disconnect switch
High and low gas pressure switches
Building management system control options
Control power transformer for 208, 230, 460, or 575V supply voltage
Timed freeze protection
Mild temperature inlet on/off duct stat
Motor starter auxiliary contacts for starting exhaust fan
Double pole double throw (DPDT) control relays
Circuit analyzer for 10 to 12 points
Accessories
NEMA 1 remote control panel
Discharge damper, unpainted*
Discharge louvers – 3- or 4-way, unpainted*
Evaporative cooler with pre-filter with 12" Celdek or Glasdek media – optional rain hood with filter
Evaporative cooler fill and drain kits, manual or automatic with optional freeze stat
Inlet stand, painted in 24" or 48" heights, with or without inlet screen – vertical units only
Vibration hanger – suspended units only
Vibration feet – slab mounted units only
Box style disconnect switch
*Painted options available
Contact Us For More Information